Eco Initiatives
Being environmentally responsible is important for all successful corporations. So is offering customers product options that consume less fuel and reduce their carbon footprints. As an industry leader, FCCC has been producing hybrid and alternatively powered vehicles since 1996. Our global sustainability initiative is focused on reducing emissions, carbon dioxide levels and fuel consumption. And we're dedicated to providing product solutions that meet consumers' expectations while minimizing the impact on the environment.
Our ongoing support for the environment is found in our commitment to deliver alternate-power options to our customers as well. We were the first commercial vehicle manufacturer to introduce hybrid-electric technology to the walk-in van market, and the first to bring it to the motorhome market as well. We also offer walk-in van and commercial bus chassis powered by compressed natural gas and liquid propane. We recently introduced the hydraulic hybrid chassis for the walk-in van market and were the first to manufacture a non-plug-in hybrid-electric school bus chassis with our sister company, Thomas Built Buses. FCCC is an innovative, nimble and forward-thinking company that believes in offering alternative power solutions to our customers as well as maintaining environmentally friendly manufacturing processes.
GREEN PRODUCTS
At FCCC, we're not only committed to reducing our environmental footprint with clean manufacturing efforts, but also to developing green products.
In fact, we were the first to market hybrid-electric chassis for the commercial vehicle market. In 2008, we introduced ecoFRED™, the motorhome industry's first-ever hybrid-electric chassis, and the MB-HEV hybrid-electric commercial bus chassis. These two alternative-fuel chassis were introduced in response to a growing customer demand for alternative-fuel power that provides the same excellent performance and durability as FCCC's premium diesel-powered chassis.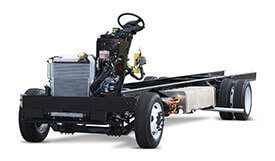 In March 2009, we introduced a robust alternative-fuel chassis – the hydraulic hybrid, built on the MT-55 walk-in van chassis. We also began manufacturing compressed natural gas (CNG) commercial vehicle chassis and hybrid-electric vehicle (HEV) chassis for the walk-in van market segment. These alternative-fuel vehicles have proven to have significant fuel savings benefits.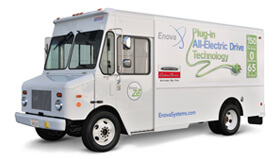 In 2013, the propane-autogas S2G chassis rolled off the line – the first ever factory-installed propane autogas engine and fuel system available for the medium-duty truck market. But we won't stop there. Keep an eye out for more green products to come as we continue to innovate and build the best chassis in the industry.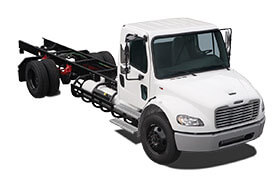 ZERO WASTE TO LANDFILL
In 2009, FCCC became the first chassis manufacturer and first company within the trucking industry to achieve Zero Waste to Landfill status in the United States. We went from disposing 250,000 pounds per month of solid waste in January 2007 to disposing zero pounds as a result of numerous environmental efforts implemented at the FCCC facility – a status we maintain to this day.
FCCC's operations are geared toward reducing our environmental impact through waste reduction and landfill avoidance while also improving air quality and employee awareness. We have achieved great success in these endeavors with the help of our "Green Team" of employees who are committed to reducing the overall carbon footprint within the company and community. Through perseverance and teamwork, we reached our goal a full three months ahead of schedule. Where once there was over 100 pounds of solid landfill waste per chassis built, now there is none.
By standardizing how we manage our recyclable waste, we can now focus on sustainability and the push toward more environmental targets and objectives, such as further energy reductions and decreasing the need for recycling through reducing our overall waste generation and reusing whenever possible.
SCR - SIMPLE. CLEAN. RELIABLE.
Meeting 2010 EPA Emissions Standards. Improving Performance.
SCR technology is simple, clean, reliable and hassle-free. It meets 2010 EPA emissions standards and improves performance. SCR, or Selective Catalytic Reduction, is the cleanest diesel emissions technology available. It delivers more horsepower, torque and better fuel economy than other emissions technologies.
SCR Frequently Asked Questions
SCR, 2010 Emissions Standards and the RV Industry
Q: What are the new EPA 2010 diesel emissions standards?
A: EPA 2010 diesel engine emissions standards reduce the amount of nitrogen oxides emissions into the atmosphere for cleaner air and a cleaner environment. EPA mandates are pretty common and have been passed in '94, '98, '02, '07 and now in 2010.
Q: What is SCR?
A: SCR stands for Selective Catalytic Reduction. SCR simply adds a Diesel Exhaust Fluid (DEF) into the exhaust gas and filters it through a catalyst to convert NOx into nitrogen and water, which is released into the air. It is the next-generation technology that almost every diesel engine manufacturer is using to comply and the technology that almost all RV and commercial truck OEMs have chosen to comply with the new 2010 Emissions Standards.
Q: Is there an alternative solution available to meet the 2010 EPA requirements?
A: Only one manufacturer is pursuing a divergent path from the rest of the industry, opting to intensify the EGR technology used to reach the EPA 2007 standards, calling it Advanced EGR (AEGR). However, all other motorhome and engine OEMs have selected SCR because of its proven technology and benefits to the RV owner and the environment.
Q: Why are the overwhelming majority of engine, truck and motorhome manufacturers using SCR?
A: Because SCR is a Simple, Clean and Reliable technology:
• Simple: SCR is built upon existing technology and simply adds a Diesel Exhaust Fluid (DEF) and a catalyst to remove additional particulates and emissions.
• Clean: SCR technology has been certified by the EPA to meet its new standards.
• Reliable: Although relatively new to North America, SCR is a proven technology that has been in use in Europe since 2006 with over 600,000 SCR equipped commercial vehicles in service over hundreds of millions of miles. In addition, more than 30 million test miles were run in the U.S. before SCR was released to the market.
Q: Are there other benefits of SCR technology?
A: Yes, many. In addition to meeting 2010 emissions standards, SCR gives you 5 to 8 percent better fuel economy, more torque and more horsepower versus a similarly equipped EPA 2007 engine using EGR technology.
Q: Does either SCR or AEGR require additional components or add additional weight?
A: Yes, they both do. SCR requires only the addition of a DEF tank and SCR catalyst, while AEGR will require a larger engine to achieve similar horsepower and torque ratings, a larger radiator for cooling and, in some cases, an additional turbo. In the end, both of these technologies are expected to add a similar amount of additional weight to the motorhome.
Q: How easy is it to refill the DEF tank?
A: It's hassle-free. DEF is as simple and quick to refill as windshield wiper fluid and is readily available at thousands of travel centers and auto-parts supply stores nationwide.