GREEN PRODUCTS
At FCCC, we're not only committed to reducing our environmental footprint with clean manufacturing efforts, but also to developing green products.
In fact, we were the first to market hybrid-electric chassis for the commercial vehicle market. In 2008, we introduced ecoFRED™, the motorhome industry's first-ever hybrid-electric chassis, and the MB-HEV hybrid-electric commercial bus chassis. These two alternative-fuel chassis were introduced in response to a growing customer demand for alternative-fuel power that provides the same excellent performance and durability as FCCC's premium diesel-powered chassis.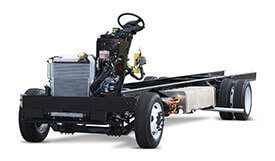 In March 2009, we introduced a robust alternative-fuel chassis – the hydraulic hybrid, built on the MT-55 walk-in van chassis. We also began manufacturing compressed natural gas (CNG) commercial vehicle chassis and hybrid-electric vehicle (HEV) chassis for the walk-in van market segment. These alternative-fuel vehicles have proven to have significant fuel savings benefits.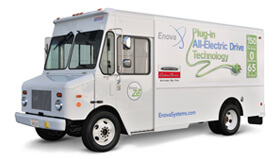 In 2013, the propane-autogas S2G chassis rolled off the line – the first ever factory-installed propane autogas engine and fuel system available for the medium-duty truck market. But we won't stop there. Keep an eye out for more green products to come as we continue to innovate and build the best chassis in the industry.