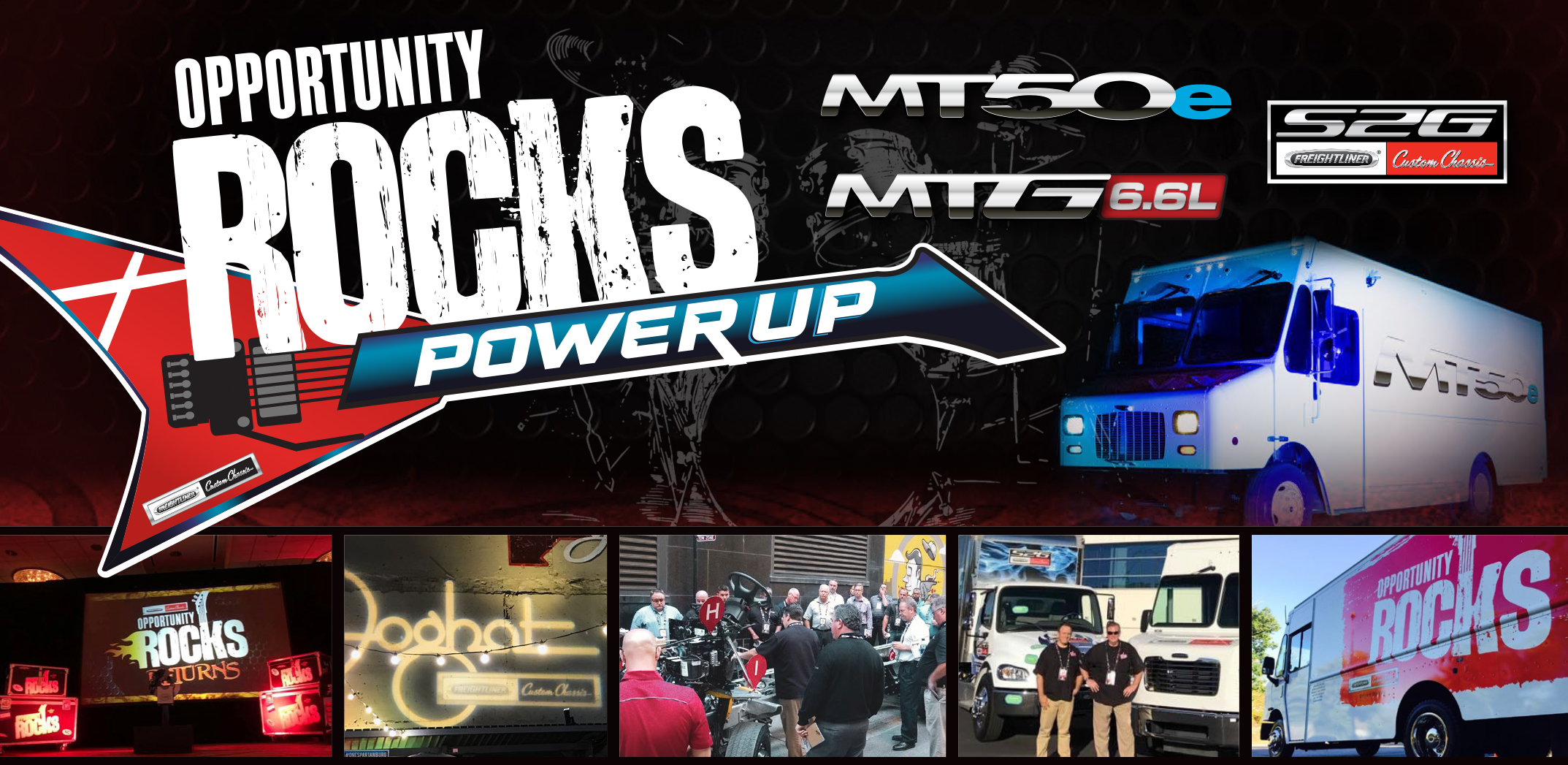 Opportunity Rocks: POWER UP!
Discover valuable selling opportunities in the growing commercial truck markets with Freightliner Custom Chassis.
Join FCCC on the West Coast or the East Coast for exclusive training on the electric MT50e chassis, plus the new 6.6L gas MT platform and the updated S2G. Get ahead of the game in sales through exclusive training for the future of last-mile delivery vehicles.
West Coast
October 4-6, 2021
Chandler, AZ
Gila River Wild Horse Pass Hotel & Casino
Enjoy delectable dining and lively gaming
Just Southeast of Phoenix
East Coast
November 1-3, 2021
Spartanburg, SC
Spartanburg Marriott
Tour the FCCC factory
Explore the Greenville and Gaffney areas
The Opportunity Rocks Experience
Interactive Learning
Ride & Drive Experiences
Team Collaboration
Hands-on Product Walkarounds
Evening Entertainment
MT50e
Meet the future of electric delivery vehicles—the MT50e chassis on the Proterra power platform. Dealers will get to learn all about the only all-electric, zero-emissions platform with the proven reliability and performance of Freightliner Custom Chassis. Along with this productsales training, HV1/High Voltage Training Certification is also included for all participants.
Other Training
In addition to MT50e education, dealers will also get to learn about the new 6.6L gas MT platform for walk-in vans, the updated S2G and alternative fuel options. Body builders Morgan Olson and Utilimaster will also share recent updates.
Ready to rock? Registered?
Over the coming weeks, FCCC will provide additional event details via email. Changes or additions to registrations can by made by emailing fccctraining@fai2.com.