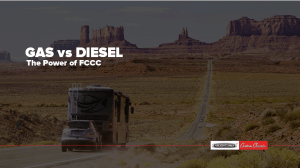 The goal of this course is to help you understand and communicate the benefits of FCCC diesel coaches over gas coaches. We'll compare the entry-level XC diesel chassis in a straight-rail configuration (XCS) to a seemingly less expensive gas coach.
Standard features of the XCS include:
Disc brakes
55° wheel cut
Drum brakes in all positions
No tag axle
Cummins 300 and 340 HP
When you have completed all three lessons, be sure to take the quiz below to receive your certificate.
To begin, select the first lesson below.
's Course Progress: